What Is Tipples Club Rewards?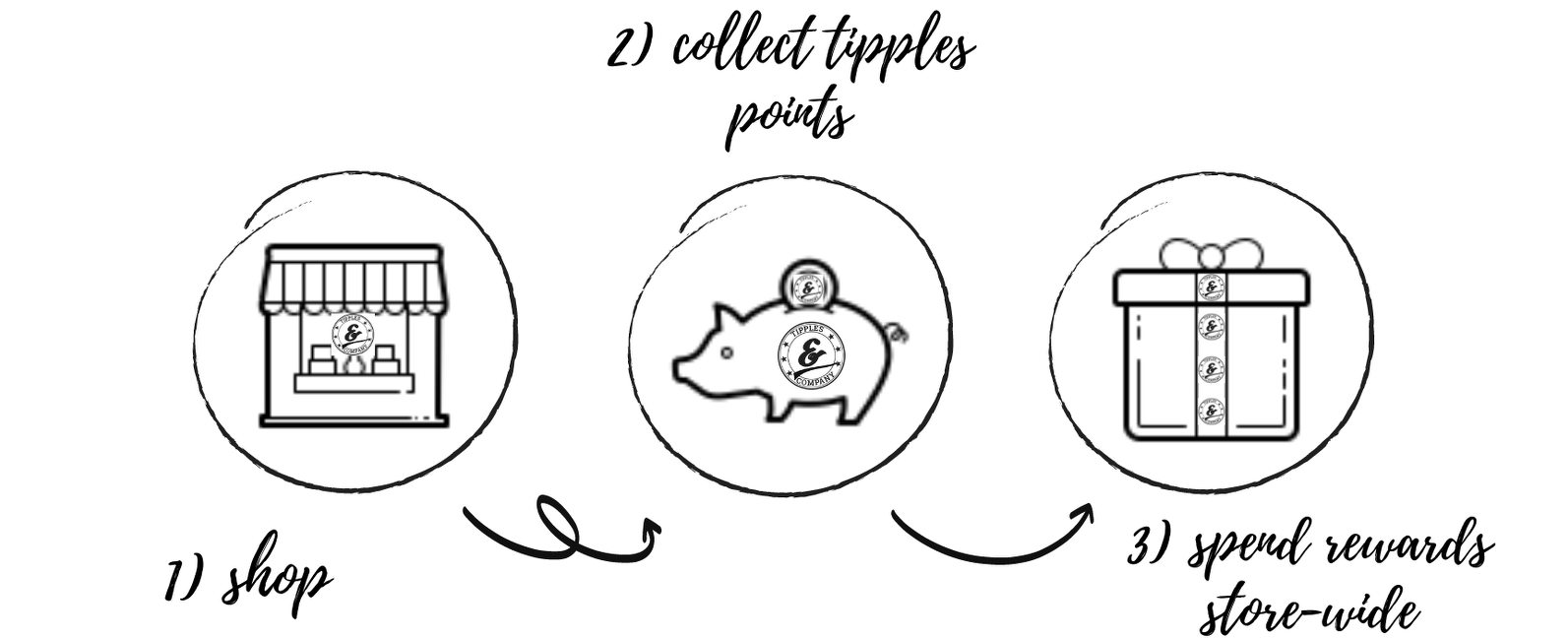 Welcome to Tipples Club Rewards.
This is our way of saying thank you for choosing Tipples And Company®.
Here's how it works
1. Sign up for a Tipples And Company account - this step automatically enrols you onto the Tipples Club Rewards program - no need to apply for this separately (we've made things simple). Other benefits of signing up for an account: securely store your details to allow quick payment for your goods; check your Tipples Points balance at any time and turn them in to rewards; order your favourite items in minutes; track orders; save multiple shipping addresses; access order history; create a wish list of items and share it with your friends and family if you wish, plus much more. All in all we make shopping with us a doddle!
2. Collect points - Use your Tipples Club Rewards account to collect points on everything you buy, store-wide. Collect 4 points for every £1 spent on your favourite tipples. Your Tipples Points is automatically added to your account. It can take up to 3 days for your Tipples Club Rewards account balance to update and reflect the additional points you've collected each time you have made a purchase.
3. Tipples Points adds up to credits you can spend - we turn your Tipples Points in to credits which is securely stored in your account. You can spend your Tipples Points on everything that is available in our webshop.
Tip! Keep an eye out for bonus Tipples Points - we're a nice bunch! We like to be generous and so we'll spring nice surprises on our customers by dropping bonus points and more, your way. This will ensure your Tipples Club Rewards will add up in no time. Be sure to keep your eyes peeled for these offers and more! We're going to stick by our word - RIGHT NOW, we'll give you 200 Tipples Points just for signing up to an account. Don't miss out on other bonuses by signing up to our newsletter as well, where we will keep you posted on giveaways, the latest offers and new arrivals. Well, what are you waiting for?!
FAQs.
Q. How do I earn Tipples Points?
A. There are five ways to earn Tipples Points. To help you on your way to exchanging points for products store-wide and get that exciting "I paid for my favourite tipples using my Tipples Club Reward' feeling, here's how;
1. Create a Tipples & Company webshop account - Get 200 Tipples Points as a welcome bonus.
2. Make a purchase - Get 4 Tipples Points for every £1 spent (excluding any shipping fees, taxes & purchases of E-Gift cards).
3. Refer a Friend - Get 100 Tipples Points for each friend who buys from your referral link. 'Refer a Friend' now!
4. Birthday Bonus - Get 125 Tipples Points in your birthday month (when you have provided your birthday month in your account details).
5. Surprise bonus points along the way - Sign up to our newsletter as we will keep you in the loop of the newest tipples, products, competitions and giveaways instore and it will also allow us to inform you of any free bonus points that we splash out throughout the year!
Q. How can I use my Tipples Points?
A. Use your Tipples Points to redeem rewards store-wide as coupon codes or store credit. You can apply one coupon code or store credit per order on the payment page during checkout.
Q. When do I earn Tipples Points when I make a purchase?
A. Points would be earned when your "Order Status" is "Completed" or "Shipped".
Q. How do I earn Birthday Bonus?
A. You must register your birthday month and have at least one qualifying order placed 30 days or earlier prior to the 1st day of your birthday month to receive a Birthday Bonus for that calendar year. Birthday Bonuses will not be granted retroactively for past birthdays. A qualifying order is a shipped or completed order that was not cancelled or refunded.
- If members fill in their birthdays before their birthday month, bonus will be awarded at the beginning of the month.
- If members fill in their birthdays during their birthday month, bonus will be awarded at the end of the month.
Q. Can I request that Tipples Club Reward Points which I have collected be exchanged for money and paid back to me through my bank account or other means?
A. No. Tipples Club Reward points can only be redeemed against a purchase of items within the Tipples And Company webshop. Tipples Points can not be converted in to cash and paid to you.
Q. What if I want to leave Tipples Club Rewards?
A. If you wish to leave Tipples Club Rewards, please contact us at [email protected] and we'll close your account. After your account is closed you will no longer be able to use it to make any purchases or be able to collect any more Tipples Points. If you have any points in your account that you want to spend, we strongly recommend that you use them before leaving Tipples Club Rewards as they can not be used after your account has been closed. When you close your account you understand that you will not be able to place any more orders for your favourite tipples or spend any points that you may have collected as account closure will forfeit all Tipples Points.
Q. Where can I see how much is in my Tipples Club Rewards account and what I have left to spend?
A. You can do this one of two ways. Either login to your Tipples And Company webshop account or when you click on the tab "Tipples Club Rewards" and sign in to your account securely you can then see all the Tipples Points you have collected for the last two years and what there is left to spend. You will also be able to see the overall activity of when you collected the points along with details of when and how you have used or redeemed them.
Q. Do my Tipple Club Rewards Points expire?
A. No. The Tipples Points you have collected remain in your account balance until you have used them, unless you have specifically requested us to close your account.
Can't find the answer to your question here?
Contact us on 0191 679 0676 or email us at: [email protected] and we'll do our utmost to help you find the answer to what you are looking for.